As global venture funding fell again in Q3 2023, much of the conversation around the impact of the current funding winter has focused on the startup community and industry supply chains. Yet the high levels of investor caution are also linked to the huge amounts of pressure their investors face to uncover the best deals out there. 
Investors are tasked with building high-performance portfolios that deliver ROI for limited partners and private investors at these funds. However, researching and analyzing each potential deal is a complex and time-consuming process.
One HBR survey found that for each deal a VC firm eventually closes, the firm will consider 101 opportunities on average. A typical deal takes 83 days to close, and firms reported spending an average of 118 hours on due diligence during that period, making calls to an average of 10 references.
VC firms need to find quality from the hundreds of potential deals considered. The example above highlights just how laborious and time-consuming traditional research methods employed by investors can be.
With increasingly tough odds across global economies, leveraging technology to find new ways of working could help investors find the right deals more quickly and efficiently, giving a boost to the startup industry in turn. Finta was founded to do exactly this.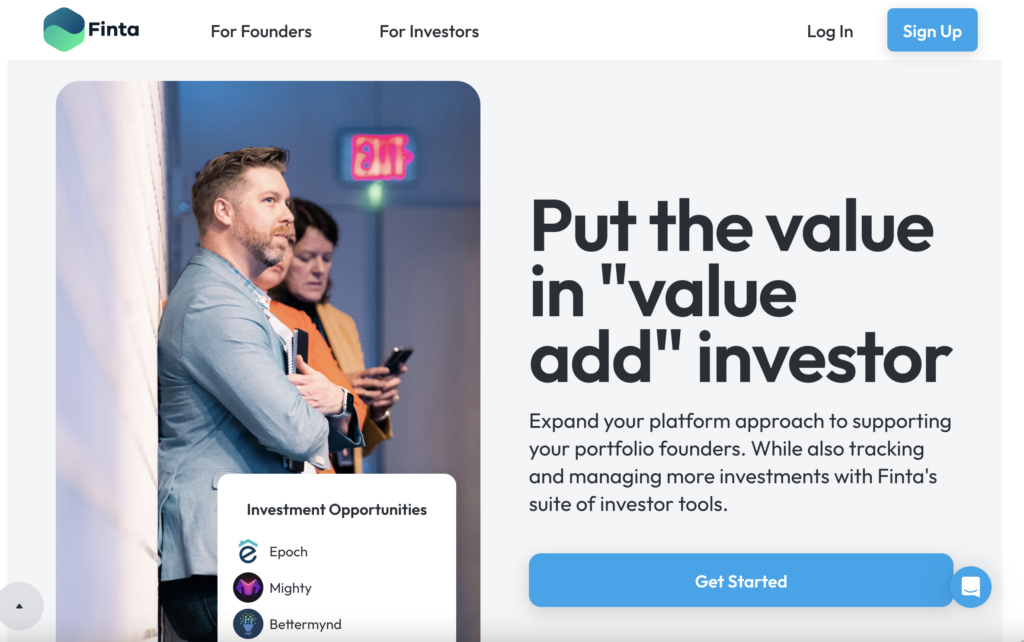 How Finta helps investors
Finta and its AI-powered CRM platform has a range of services to support investor activity and unlock powerful automation throughout the process. 
The first task a VC faces is connecting with start-ups looking for funding—a process referred to as generating deal flow. Here Finta lets investors access all this information in one place. The platform automatically organizes key data points like cap tables, along with all due diligence materials which makes it much more quick and efficient to review potential deals being considered. 
This approach also means investors can support more deals in the future thanks to the huge amounts of time saved throughout the whole prospecting process. Not only can investors review more potential deals more quickly, but once deals have been made Finta helps to manage these investments and the relationships with founders in the portfolio.
Finally, Finta can also help investors support the startup community more easily. For example, not every deal considered will be financed, but investors can easily make warm introductions to other investors within a similar industry who might be interested in providing funding instead. 
An investor solution from a veteran investor
Finta was founded by Kevin Siskar who himself is no stranger to the challenges associated with financing great ideas.
Before Finta, Kevin was the Director of the NYC chapter of the Founder Institute, and he also is a pre-seed investor with Firehouse Ventures. As a result, he's supported over 160 early-stage technology companies meaning he has countless examples of exactly how much work goes into prospecting each of these deals and managing the investment in the long-term. 
Kevin used this experience to create a CRM platform that would help to boost the productivity of investors and remove much of the labor associated with the due diligence processes with streamlined automation and AI-powered workflows.
Today, FInta is helping angel investors, VC firms and private equity specialists to manage their deal flow and relationships across industries with ease. In this way, Kevin hopes to support his mission to help more businesses grow by making it easier for founders and investors to connect and build successful deals together.